Who We AreOkwesilieze Women's Club Of Nigeria®
THE REST WAS A STORY !
The Okwesilieze Women's Club Of Nigeria was founded in 1976 by the Wives of the Original People's Club Of Nigeria In Enugu. It originated with the Blessings from/ given by their Husbands, the then late founders of the People's Club Of Nigeria.(THE EZE ANYI-KWESILI) These were well to do Women of Substance. Women with Class!. Great Mothers indeed!

The First Induction took place on April 1st, 1978 in Enugu-Nigeria. Today, the club has grown extensively with Chapters around the world including The USA.
On August 16th, 1979 a promise was made to The Nigerian Chapter that one day this Elite Club will be formed in America. Since their missions were to promote Family Values e.t.c. It was a good idea indeed. It took 25 years to fulfill that promise.

On the January 21st, 2003 With compassionate feelings, The Texas-Chapter was found and registered according to the Texas law of the land by Kwesi Dr/Mrs. Gboliwe Chukwu also the Hon. President of that chapter. As she can Remember back home then, they used to call being a member of this Elite club A NATURAL INSURANCE!. And when you are welcomed into this club, frankly, It is a privilege. And that's why it's not meant for every woman.

On the October 11th, 2003 with the Nigerian delegates headed by Kwesi/Chief/Mrs. Alice Nwandu- The Lifetime National President; The Houston-Chapter was launched as a non-profit organization designed for women of substance and means with common goals and objectives regarding issues that affect the quality of life for Nigerian Women, their families and Nigerian society here in the United states and Back home.

Our mission is to keep promoting family values and to harness our members for wellness, economics and other activities, helping less fortunate women, abused, homeless through our areas of operations to the best of our ability and knowledge. The Club represents the interests and diversity among women from various professions. We have many Benefits with fantastic rewards.
According to the Club's Founder/Hon. President, kwesi/Dr. Gboliwe Chukwu. "a Club where women with the ideas can talk to each other with respect on a wellness basis and family prosperity, friendships, sisterhoods, bringing awareness to issues that concern women such as healthcare, current news, Our spouses, our kids living in this dangerous world, what works and what doesn't work. Remember it takes a village to raise a child

Houston-Chapter is the first in North America fully Registered and Incorporated. We promise to keep that flame burning until the day we hand down that torch to our sons and daughters just as those wonderful mothers did 2003 in Houston Texas.

Congratulations to the 2005 New Inductees. All these means that the Continuation of the oldest and strongest Private Women Club in Nigeria is now fully Functioning In Texas-USA with the authorization and power from the National-Nigerian Chapter. Long live Okwesilieze Women's Club Of Nigeria! Long live Nigeria! Long live USA!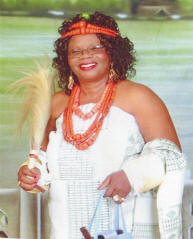 It shall be well with you all

Signed by,

Hon. Kwesi/Dr/Mrs.Gracie Gboliwe Chukwu
President International-OWCN- North America.